Introducing Coalition for Jewish Values – A Much-Needed Breath of Fresh Air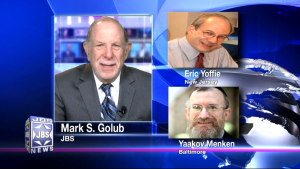 The voices of those purporting to speak for Judaism and Jews often take positions that embody the antithesis of authentic Torah values. It is immensely frustrating, does a disservice to the divine mandate that is the essential role of the Jewish people, and therefore requires the consistent and fearless articulation of a genuine Torah message for the public.
A bold new organization, Coalition for Jewish Values (CJV), was founded by a broad-based cadre of rabbinic figures who perceived this problem and proposed CJV as the solution. CJV unabashedly addresses the burning issues of the day with press-releases that are promptly composed and broadcast during each relevant news cycle – usually literally within a few hours of a breaking story – so that CJV's voice is heard and the Torah's position is in the forefront of public discourse. CJV also publishes longer pieces that address various policy matters from a Torah perspective.
CJV has thus far issued very important press releases regarding the nomination of David Friedman for the position of US Ambassador to the State of Israel, as well as regarding attempts by the Reform movement to interfere with Israeli anti-BDS legislation. These press releases were carried on multiple major media sites and have been invoked by important parties at the heart of the discussion. CJV statements about transgender issues and about irresponsible "Orthodox" voices, which do not represent the vast majority of Orthodox Jews, were well-received by those waiting for a rabbinic organization to clarify the issues and state the truth, without hesitation, compromise or political correctness.
Earlier this week, Rabbi Yaakov Menken, Director of CJV, represented CJV in a debate-discussion with Reform leader Rabbi Eric Yoffie. CJV's rapid rise to prominence made it the perfect address for Jewish Broadcasting Service to contact for this program.
CJV's Rabbinic Board consists of nationally-known rabbinic personalities, who serve as CJV's Senior Rabbinic Fellows. The CJV Rabbinic Board is supported by the CJV Rabbinic Circle, which is a group of Orthodox rabbis who lend concurrence and gravitas to the statements issued by the Rabbinic Board. The Rabbinic Circle is still accepting new members who qualify.
Please follow the CJV website for new press releases and op-eds, and feel free to post comments and share ideas. CJV welcomes new voices and looks forward to continued rapid growth as a major and exciting voice in the discourse.