Curing the Annual Chumash Doldrums: New Volume of Abarbanel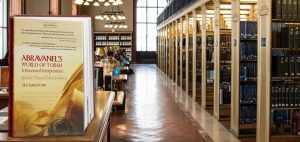 We're not supposed to say it. But for many people it is true. They have their favorite parshios of Chumash, and their not-quite favorites. The latter begin, for some, this coming week. Nothing wrong, chas v'shalom. It's just that some have a harder time getting into a parshah without a story line, and dramatic action has all but come to an end for Chumash Shemos.
Help is available. The Abarbanel is one of the most exciting tools to making any parshah come alive, because he takes a stab at filling in so many of the missing details in the text. He is often disregarded, however, because his treatment is so long.
For the third time, Zev Bar Eitan in Israel has published what he calls a "structured interpretation" of Abarbanel. A long list of approbations and accolades has accompanied each volume, and for good reason. The author takes segments of the Abarbanel on each parshah and offers an interpretive reading in crisp, contemporary English. The new, third volume begins with this coming parshah, and includes the rest of Shemos.
Students of the parshios dealing with the mishkan want to know what and want to know why. What do all these details tell us? What messages can we take away? Because of this important contribution, English readers now can add the Abarbanel to the work of R. Samson Raphael Hirsch in understanding both the details of the holy objects, as well as their symbolic and other meanings.
Keeping "Abravanel's World of Torah: A Structured Interpretation- Shemot Vol. II, Assembled at Sinai" on your desk for the next weeks will make the second half of Chumash Shemos a more valuable experience.