Is "Gadol HaDor" a New Concept?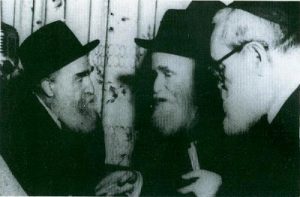 I don't believe that I have ever read anything by Dr. Marc Shapiro that did not impart new information and enlightenment. I don't always agree with his analysis, and am fairly confident that he disagrees with much of what I write. But I avidly read his posts, and find much that is instructive.
A recent post of his considered some issues about gedolim and Daas Torah was no different (especially the text between notes 12-17). He makes one contention, however, that I believe can be easily contested:
Contrary to what some think, the term gadol ha-dor is not a recent term. Tosafot,[Berakhot 31b s.v. מורה] and many other rishonim, use it in the sense of a great Torah scholar, but as far as I know, there is no implication in the rishonim that the term means the preeminent Torah leader, as it is used today when people say that X is the gadol ha-dor. (I perhaps should write "scholar-leader", since one cannot be the gadol ha-dor without being both a scholar and a leader.) When the rishonim use the term it means that X is a gadol ha-dor, i.e., a great sage. Even today, when "the gadol ha-dor" means the preeminent Torah leader, it need not mean that this individual is also the greatest Torah scholar, although sometimes times it does (e.g., when R. Elyashiv or R. Ovadiah Yosef were described as such, I think people assumed that they were the greatest Torah scholars.)
Berachos 63A (bottom), however, demonstrates the concept of gedolei hador as the preeminent halachists – and also throws in (in regard to R Akiva) a special halachic status for the single preeminent scholar of his time. See on this Ramban to Sefer HaMitzvos, Asin 153 (pg 264 in Frankel ed.): מאותה דעה
תהיה הרשות ביד הגדול שבישראל לקדש ולעבור אפ' בח"ל
The special significance of the single most important halachist of the generation can also be found in Yam Shel Shlomo, Bava Kamma 10:10 והאידנא החשוב שבדורו נקרא ב"ד כל דור ודור לפי שהוא הגדול
And coming from a completely different direction, the Abarbanel, hakdamah to Shoftim וכבר העירו חז"ל למה אמרו ויהי בישורון מלך זה משה, שבמקום שאין מלך גדול הדור הרי הוא כמלך
I sent my observations to Dr. Shapiro a while ago, and I am sure that he will respond in time. They might be valuable to readers in the interim, however.
I also wrote to him that he did not have to go to Tosafos to show the antiquity of the term gadol hador (and its plural). Moed Katan 22B (top) shows it, in the context of one among several or many. It seems apparent there that it does mean halachic expertise, unlike the passage in Pesachim which he correctly cites as meaning something quite different.