A Quick Test For the Anti-Semitism Virus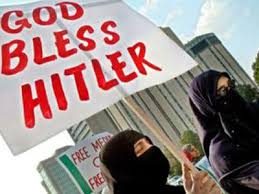 Fail this test, and you are an anti-Semite. No ands, ifs, or buts.
It's important to realize that there are people who oppose many of Israel's policies and activities who are not anti-Semites. (Lots of them sit in Knesset!) They may be right; they may be wrong. They may be misinformed or hopeless naïfs. It doesn't matter. Those of us who spend serious time advocating for Israel know that it is a mistake to label any and all opposition to Israel as anti-Semitism. (I don't know anyone who actually thinks that way, but the BDS people make good use of the canard that you cannot speak to Jews about Israel, because they will brand you an anti-Semite for the slightest criticism of their Jewish State. Their claim that we shut down all conversation is actually a clever way for them to shut down all conversation!)
It is also a mistake to underestimate the amount of old-fashioned, unvarnished Jew-hatred that is alive and well around the world and in high places of government, academia, and religion. Is there a litmus test to separate the legitimate criticism from the uglier kind?
For many years, I peddled Natan Sharansky's Three D's. He argued that criticism of Israel crossed a line into anti-Semitism when it violated any one of three touchstones: Delegitimization, Demonization, and Double-standard. Worked well for me. But it took time to get results. You had to wait to hear significant conversation. We needed something like the instant strep test you look for when one of the kids is under the weather.
I found it by spending a few days at Hadassah where my mother-in-law awaited (and is now recovering BEH from) surgery. (Please daven for Devorah Ita bas Rochel.) What struck me fast and and hard was the easy cooperation, the collegial atmosphere between Jewish and Arab staff. All levels. Physicians, nurses, support, maintenance. Talking to each other, working as teams. Not just a few examples here and there, but absolutely the rule. Casual, matter-of-fact, effective. Young hijab-bedecked nurses in pleasant animated discussion (in Hebrew) with haredi colleagues. Not what you see on MSNBC.
It was a shock to some people there, that after a while they had their favorite Arab physician or nurse, whom they preferred at times over some of the Jewish staff. (Happened to us a number of times. While the level of medical know-how is impressive, interactions with patients and families left much to be desired. I've seen far better in the US. There were many exceptions: young doctors, American-trained doctors, and frum doctors all were more sympathetic, more caring, and gave more of their time. They were several cuts above the rest. The culprit seemed to be the European "professor" system, where everyone bows to the leading medical eminence, who needs to bend to no one. I don't remember who explains the gemara's commentary on the medical profession טוב שברופאים לגהינום as referring specifically to the physician who holds himself to be the best of the bunch, but it certainly came alive for me last week.)
All of this is aside from the mix of patients at the hospital. Arab patients seemed to number about half. Jews and Arabs treated absolutely the same. Which led to families and visitors also mixing in the areas reserved for non-patients. I had a long conversation with a Muslim West Bank Arab who started speaking to me in English. He had spent much time in the US, where his kids were educated and still lived. He had voted for Trump ("America needed a change"). I asked him whether he feared Trump's anti-Muslim campaign rhetoric. Absolutely not, he said. Americans were too fair to allow real harm to Muslim citizens. We took selfies with each other, and traded prescriptions for peace. (Palestinians, he said, need to understand that Israel is a reality, and that they were not going to push the Jews into the sea. Jews, he argued, needed to understand that they were not going to push the Palestinians into Jordan.)
So what's the quick test for anti-Semitism? [Drum roll]
Bring the person to Hadassah for a half hour. If they can still get the words "Apartheid State!" out of their mouths after being hit with the huge counterexamples, they are nothing but contemptible, miserable anti-Semites.