The Trump Tallis and Outsider Journalism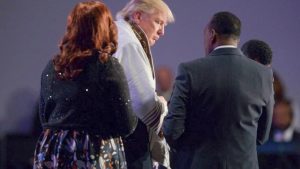 Who's more likely to get us wrong – journalists far removed from our community and its thought, or academic scholars outside their field of competence? The answer should be obvious: a journalist from outside the community, relying on an academic scholar. The Donald Trump Tallis Affair is just another case in point.
When a black pastor in Detroit draped a tallis around the shoulders of The Donald, Jewish tongues started clucking with disapproval. "Cultural appropriation!" "He's an anti-Semite!" Notably, the vehemence, as best as I could tell, all came from Jews on the left – politically and religiously. Perhaps their real discomfort was in the realization that Donald Trump wears a tallis more often than they do. The rest of us were mildly amused (if anything about this strange campaign can be said to be amusing), and wanted to know more about the pastor and his church. (Hint: It is a Pentecostal church. There are lots of black Pentacostal churches, full of people who are pro-Israel, certainly more so than the elites in Haaretz who were quick to condemn the incident.)
The real cultural appropriation came from Jewish circles, which had to scramble to figure out what a tallis was, why the benighted religious Christians believed that Jesus wore one, and why they had to be wrong. Savor this, from an article in The Forward, authored by a "soferet" and designer of the famous Tefillin Barbie:
In the religion known as rabbinic Judaism, rectangular garments are required to have knotted tassels on the corners, following the Torah. According to the scholar Dafna Shlezinger-Katsman, in Jesus's era, people in the eastern parts of the Roman Empire routinely wore a rectangular thing called a pallium, and therefore people who wanted to observe rabbinic Judaism probably put tassels on their pallia. …A tassel-equipped pallium is what the early rabbis were probably referring to when they said "tallit." …The tassels on the religious Jews' pallia probably stood out to those in the know, but those who weren't savvy to the significance wouldn't have cared especially…Jesus may or may not have worn a tallit, depending on whether he was the type who wore pallium and whether he was inspired to mark himself as part of the rabbinic in-group by attaching tassels to it. …Quite possibly Jesus, too, thought there were more important issues to focus on. …Having a special rectangular garment with tassels that you wear during prayer seems to have been a late medieval development, according to scholars like Elisheva Baumgarten.
Except that it wasn't. Unless we assume that the Babylonian Talmud is of late medieval development. I can't tell you how much a tassled Roman pallium would set you back on Ebay in fourth or fifth century Iraq, but they seemed to know about it and its role in davening:
R. Yochanan said, "Were a verse not written, it would be impossible to say it. This teaches that the Holy One, Blessed is He, wrapped Himself in a tallis like a prayer leader and demonstrated to Moses the order of prayer." (Rosh Hashanah, 17B)