For Whom the Bell Doth Not Toll: The New Pew and an Elul Challenge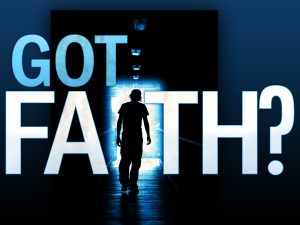 "If they understood the effect the chiming of the church bells had on the Jewish soul, they would never stop them." So observed a Torah sage of a different generation, when the grandeur and power of the Church further demoralized an impoverished and persecuted European Jewry. If the Pew Research Center is correct, today's worry should be the growing silence of those bells. In this we find a challenge as Elul is upon us, and as we look towards the yemei ha-din.
Pew shocked the country a few years ago when it reported that the fastest-growing religious group in the country was the "nones" – the group that reported no affiliation at all. Not to worry, argued many in the religious community (including this author), once they recovered their stride. It may not be as bad as it looks. These are people who have not given up on G-d and religion. Many are just turned off to organized religion, overwhelmed by all the scandals. Even more are people who are so serious about their spirituality, that they are exploring several options, not simply committing to the faith of their parents. They have not given up on G-d and religion.
We were all wrong, it seems. Pew just released a follow-up study on the reasons for the growth of the "nones." (Unlike the frum community, others actually get to test their theories through scientific gathering of evidence. But that's a different gripe, and for a different essay.) We now know why Americans are leaving religion, and the truth is harsher than we believed.
Pew allowed the "nones" to speak out in their own words, and then grouped the responses into different categories. Yes – some were investigating different providers of spirituality. But they accounted for only about 18% of the group. Those who left because of a mistrust of organized religion were only negligibly more numerous (20%).
Where have all the believers gone? A whopping 49% are what could be called principled non-believers. Their thinking has changed, and their beliefs are no longer in a place that can sustain faith. They cite all sorts of interesting reasons, r"l: they've come to realize that religion is the opiate of the masses; understanding science obviates the need for religion; they find religious belief irrational or unfounded; they prefer to make their own decision, rather than rely on some external authority; as scientists, they cannot believe in miracles.
None of these arguments are particularly new. The novelty of the trend is simple. It used to be the case that one generation would, to a large extent, absorb the beliefs of their parents and community. That is no longer the case. Without powerful reasons to stay connected, involved, or even identify with belief in a G-d Who has expectations about human behavior, people are going to opt out. If you don't give people strong, compelling arguments to believe, they aren't going to.
It will take more than a minor miracle for these attitudes not to seep into our own community. A good part of the study of Jewish history can be described as watching the particulars of galus creep into the Jewish psyche. We've sometimes done a good job resisting, and sometimes not such a good job. But it is reasonable to forecast that skepticism and rejection and sheer indifference will flow – not trickle – into our neighborhoods, even those that think they are hermetically sealed off from external influences.
Are we in dire straits? Not at all. Only if we ignore changing conditions – if we refuse to be the chachomim ha-ro'im es ha-nolad. Only if we ignore the treasure-trove of material in our mesorah that explains to people the whys and wherefores of belief and practice – of Who G-d is, why we believe, what He wants from us. Only if we are foolish enough to believe that our children will stay observant simply because they are growing up with the faith of their parents.
It would be wonderful to feed children emunah peshutah pills, but we haven't found a way to produce them yet. (Too many contaminants in the machinery.) Until they become commercially available, we need more educators who have sufficient grasp of the great works of the Rishonim that they can distill their essence and convey them in the vernacular to less sophisticated audiences. (Elementary school children don't have to know about the Rambam's Moreh, but I would submit that people who have not puzzled through it, the Kuzari, and R Sadyah Gaon are more likely to come up with philosophical pablum rather than anything of substance – even when speaking to children.) We need more rabbeim who have absorbed and personalized works that address modern and post-modern questions, like R Samson Raphael Hirsch and R. Kook. We need teachers who can convey the depth of the more intellectual chassidus, like Sfas Emes and R. Tzadok. We need to take our children out of classrooms that suppress questions, or offer dumb answers.
We need a laity that can regenerate their enthusiasm constantly by listening to modern-day masters like R. Aharon Lopiansky and R. Moshe Weinberger. We need parents who have become supercharged through them to be more manifest in their enthusiasm for HKBH. We need parents who show their children that they have loving conversations with Hashem often, maybe even more often than they text others. We need parents who refer to Him in their ordinary conversation as if their emunah was on steroids.
"Let the wicked one forsake his way and the iniquitous man his thoughts."[1] The Slonimer Rebbe[2] observes that the navi doesn't charge the wicked to forsake their deeds, but their ways. The way of sin, he says, is the context in which it happens – the attitudes, conscious and otherwise, that leave a personal vulnerable to spiritual failings. It might be similarly argued that today, not only sin but emunah has a context. This context needs to be strengthened to provide a friendly home for firm belief. That context is a background of examination, questioning and comparison. Some will resist. They will have spiritual blood on their hands.
Those who viscerally reject this approach are not reading this blog. Those who are might give pause as they begin the internal house-cleaning of Elul. Perhaps before we stand on Rosh Hashanah to coronate the King we get to know Him somewhat better – that we become a tad more clear as to why we accept Him and remain loyal to Him.
Not so long ago, Jews would pithily observe, "Vi es christelt zich, azoy yidelt zich." The translation loses all of the flavor, but the meaning is something like "whatever is happening in the Christian world, is going to happen in the Jewish world." We would not be amiss if we modernized that to "Vi es un-christelt zich, azoy yidelt zich" – whichever way Christianity is unraveling, Jews will follow suit. And follow suit we certainly will, unless we act less like the Fiddler on the Roof shouting one word slogans at questions, and more like the am chacham v'navon we are supposed to be.
[1] Yeshaya 55:7
[2] Nesivos Shalom, vol.1 pg 209