On the Tightrope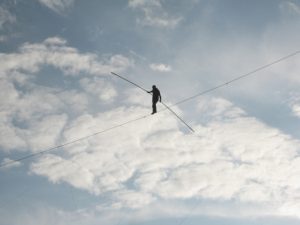 On the Tightrope
By Alexandra Fleksher
On the tightrope, I walk. Slowly, hesitantly, eyes flitting to the left – a distraction. Brief glances to the right – I lose focus. I could very well sway to the side, or even fall off. Yet I am tethered somehow to the ground, by a force that roots and secures my stance, my every move. That attachment is as tight as the tightrope itself. I know I will never fall off, but to sway…
In seminary, they taught us that if you're not moving up, you're moving down. In my years of trying earnestly to be a growth-oriented Jewess, I have found the religious experience to be a horizontal, not vertical, one. I am trying to move forward. I take steps backwards sometimes, intentionally or accidently, to help me to keep moving on. I sway. I shake. I feel the challenge beneath my wobbling feet of staying firm on the path I am on despite the distractions around me. Walking that tightrope, the tension is real. And more often than not, I could see myself down below, really just through glimpses to my right and left, in an act I could have played, a role I could have taken, a talent I could have pursued, a different person I could have become.
Yet despite the shakes and sways, I still remain steadfast. I know moving forward is my only option — besides defeat. And the force that ties me down and straightens my spine is of another dimension. It is what keeps me on the path.
I am an Orthodox Jew who constantly feels the tension and pull of my place in the modern world. Maybe some will blame the more right-wing influences in my life for the fact that I even feel such a tension, that I am lacking some peace and confidence in my attempts at integration. But I am comforted by knowing that I am not alone, that Rav J.B. Soloveichik wrote of the lonely man of faith who, long before me, experienced the tension between the world of the covenant and the world of modernity. It is indeed lonely on the tightrope.
I could be safe, getting across that rope. I could somehow create a contraption or a device to ensure I cross as safely and efficiently as possible, without allowing for the dangerous sways and glances that are sure to tempt me. But no, the challenge and the struggle is what keeps me alive. I don't seek out the challenges. I do my best to sensitively select the offerings of the world according to the standards of halacha and the nuances of my hashkafa. But the tension is what keeps me on my feet, always enabling me to think, question, and evaluate the distractions around me with the aid of the tethered weight that secures me down as my anchor.
How I view the "outside world" has always been a journey for me. Back when I was a teenager, and spent summers with my baalei teshuvah cousins in Israel who had become chareidi and rejected virtually every relic of secular society, I took their discarded Mozart and Beethoven CD's out of the garbage bags. I struggled immensely to clarify my beliefs and build confidence in my own path. And when my family Rav back in the States told me that his esteemed father-in-law, Rav Yaakov Weinberg, zt"l, would close himself in his office and listen to classical music, I felt vindicated. In the world of Torah-observance, there is more than one way.
Even as an adult, as a mother of four who probably by now should have outgrown the teenage angst stage, I still think, question and evaluate my place in Judaism and my place in the world at large. I feel the dichotomy of opposing poles when I enter almost every corner of the outside world. How my very appearance as an Orthodox married woman can be so misunderstood, and so opposing to modern ideals and sensibilities. How my very beliefs and values that inform every aspect of my daily life can be at times so at odds, and even foreign, to "the rest of the world" I observe at the supermarket, at the mall, and at the park. How I have made personal and career choices with my religious beliefs at the forefront, not just myself as the deciding factor. I still sway.
And then sometimes I feel the tension when I enter corners within myself. Struggles of wants vs. shoulds, of me vs. G-d. Struggles of public vs. private, of roles and capabilities and priorities. Tensions between who I could have been vs. who I have chosen to be, and who I think I should be. Tensions between the unrestrained self vs. the submission of self. And finally, beneath it all, the push and pull of having one foot in one world and the other in another.
Yet I do not see any of these struggles as threats. I'm still walking on that rope. I grab at opportunities for clarity and inspiration in my relationship with G-d, Judaism, and Orthodox society whenever I can find them. And I hope to think each step I take just makes me stronger. Instead of fearing the trembles, I decide to embrace them.
Alexandra Fleksher has taught middle and high school Judaic Studies and English over the past 14 years.She holds an M.S. in Jewish Education from Azrieli Graduate School of Jewish Education and an undergraduate degree in English Communications from Stern College for Women. She lives in Cleveland, Ohio with her husband and four children.