BMG is #1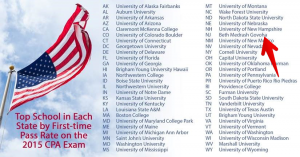 The chart lists the universities that produced the highest pass rate for those taking CPA exam for the first time. Ostensibly, this reflects both the quality of student an educational experience that positions candidates to get it right from the beginning. Outside of our circles, many must be scratching their heads. Is Beth Medrash Govoha a branch of Princeton? Rutgers?
It says more than that there are bright guys in Lakewood, and that more and more career opportunities are being made available to those who are transitioning to the workplace. We knew all that.
What it may tell educators outside of our circles – if they can get past the teachers' unions – is that it might pay to rethink educational strategy altogether, at least for some students. If motivated people in their 20's with practically no secular education at all can compete effectively with products of conventional educational systems, what can we learn about all the drill and reinforcement that is part of elementary education? Are some kids wasting years of time because they could learn material much more quickly when a bit older?
In Israel as well, haredi successes produce challenges to the educational system. Motivated haredim with no secular background at all successfully earn the equivalent of bagrut in 12-18 months in special programs, and then take their places in regular academic study at Israeli universities. Twelve years of education in 18 months? There are some questions that need answering – and may help everyone streamline children's education