The Trump Opportunity Bubble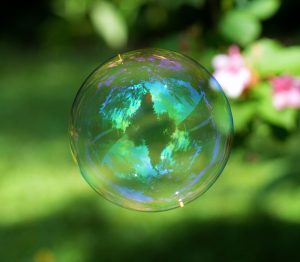 At every time of adversity, enterprising people have found ways to turn catastrophe to their own advantage. Every war, every conflict produced its profiteers – some legally, some not so. The tragicomedy of the presidential campaign offers us opportunities for profit which we should not squander.
We will not be talking about election choices, or what you think of the candidates. And the profits we should be looking at are not monetary. They concern relationships between groups, particularly minority groups, of which Jews happen to be one. Ironically, we are at a magical point in time. We can build bridges and alliances that we would not have thought of a year ago. In so doing, we can heal some of the ugly wounds opened up by this campaign, and also win friends for the Jewish State.
While many mourn the coarseness, crudeness, and sheer hatred that has surfaced in this country, some people are frightened by it. They have good reason to. Rhetoric that would not have been tolerated by radio hosts and news site moderators years ago is now openly and notoriously broadcast. Minority groups understand that on a societal level, the dots between hate speech, contempt for the "other," hidden discrimination, and acts of violence easily and almost inevitably get connected. It is likely that our societal backsliding will persist well after the election is a distant memory. The demons that have been released will not quickly vanish.
I will not even venture a guess as to whether people have learned to hate more in recent times, or whether PC suppression of what people have long felt has finally backfired, allowing pent-up anger and frustration to spill out. It does not really matter. Whether Americans had actually learned to be more accepting of difference, or they only played at it, life became somewhat easier for minorities. Some of that blessing has disappeared.
Jews either do or should know that for the most part, haters do not really restrict themselves to one target. Those who hate one group diversify in time. Many decades ago – before the experience of virtually all our writers and readers – many Jews got that. For a while, an alliance was forged between African-Americans and Jews. It unraveled, terribly. Blacks felt that Jews were paternalistic; Jews were hurt by what they thought was black ingratitude. They were probably both right.
This has changed. The ugliness around us levels the playing field for all minorities – including Jews – who feel threatened by the ill winds stirring around us. In this, there is opportunity for us to reach out to groups that were previously not very accessible. Black Americans will be less likely to see overtures by Jews as a combination of white privilege and noblesse oblige, because they will recognize that both our communities now occupy the same leaky boat. We're in this together, on an equal footing.
A year ago, it was almost unthinkable to propose working with Hispanic groups without offering – up front – assurances of being on the same side on immigration issues. Immigration was to many Hispanics what support of Israel is to mainstream Jews – a sine qua non of any relationship. That may have changed. They have a new major headache on their minds. They face more open and overt hostility. So do Jews. We have what to talk about together.
Now is an opportune time to build new bridges and relationships. Some of the work will be done by Jewish organizations. The larger part of the opportunity, however, will be available to us as individuals. Few of us relish the idea of being "cold call" operators. We don't like the rejection – even from strangers – that is often the fruit of such labors. We would rather engage in conversation with those we know, or at least those we think likely to accept our greetings warmly.
That is exactly where we are. An inquiry to a stranger or member of a different socio-economic group about how the other is feeling might have been artificial a year ago; it is not today. We can and should approach members of minority groups and ask them what they think about the mood of the times. Do they feel threatened? Are they angry? Hurt? We can offer genuine empathy because we know what it is like – and share the same fears. These are no longer memories of the past, but present realities. We can share our vulnerabilities. The commonality is not ersatz, forced, or strained. It is real. In the process, we can share what it is like to watch our brethren in Israel randomly attacked by a surrounding population that has been fully indoctrinated into murderous hatred of Jews. For the first time in memory, members of other groups might be able to understand why Jews need a place of refuge, and a country to call our own.
Although many of us see storm clouds gathering, we should notice as well the silver lining that accompanies them.