Donniel Hartman Is So…Yesterday!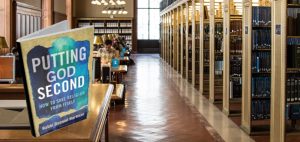 In a new twist on the old "Jews to the back of the bus" routine, Donniel Hartman, president of the Shalom Hartman Institute in Jerusalem, wants the Jewish G-d to take a back seat as well. In an extensive interview in the Times of Israel, Hartman explains the thesis of his new book, Putting G-d Second. The purpose of religion ought to be the creation of the ethical personality.
I think God wants to be second… God didn't come into this world for self-aggrandizement. It was in order to create a different type of human being, in order to elevate this world. But unfortunately, through God intoxication and God manipulation, the idea of God becomes a catalyst for evil. God intoxication is where our devotion to God is so all consuming that we no longer hear or see the needs of others….The more we put ethics first, the more I am a religious person [and the less that God is] a destructive force in our lives.
Hartman sees this preoccupation with G-d as blinding us to the plight of Palestinians and migrants seeking entry to Israel. He notes that in all of Israel's wars, it was religious MKs who pushed for pushing on in battle while their more secular colleagues wanted to call it quits.
Religion gets in the way of what should be our real focus: inculcating ethical values in our personalities, and democratic processes in our societies.
He does not want to do away with religion as we know it. He wishes for G-d to be number two, not to disappear, or even show up as number twenty. Two can't be so bad, he says. Religion is a "powerful vehicle" for making ethics central to our lives. And while the violation of the ethical renders all other attempts at spirituality meaningless, there are spiritual dimensions that are valuable if the ethical is there, front and center. Religion can transmit them. Moreover, religion helps create community, which banishes loneliness. So we ought not to discard or minimize religious practice – as long as it does not interfere with the primary goal of ethical development. (He therefore mocks the notion of an Orthodox woman at Bar Ilan not singing at a Holocaust commemoration, in deference to the halachah of kol ishah, which interferes with our ethical sense of egalitarianism. And he tells baalei teshuvah that if they refuse to eat at their non-observant parents' home, they can stop calling themselves his students.) To the contrary, Hartman wishes that Israel firmly embrace a Judaism whose first passion is the ethical, and bringing its values to the rest of the world.
None of this is particularly new. It is rather old and tired. The derogation of the ritual and ceremonial in favor of the ethical has a storied past, all of it ending the same way. More religious denominations than we can easily keep track of – Jewish and otherwise – hoped to revitalize interest by accentuating good character, or (more recently) good deeds. Think, in modern times, of Felix Adler's (said to having been inspired by a Berlin lecture by Rav Yisroel Salanter) Ethical Culture, and what is left of it. Consider the attempts by the mainline Protestant denominations move towards social justice as their primary concerns. Or the elevation of so-called tikun olam as the only principle of faith of the Jewish heterodox movements. What they all share is younger people stampeding out the door, fossilizing those who remain behind. Without coupling character and social action with responsibility to a personal Creator, too many give up on the entire enterprise of religion. We have very little reason to believe that all those who have fled from religion are better people, or have succeeded in making ours a better world. Meanwhile, the only group within Judaism that is growing is Orthodoxy, with its insistence on G-d centeredness. And in the Christian world, the fastest growing group are Pentacostals, who distinguish themselves for seeking an immediate, strong connection with G-d.
Hartman is also so….incredibly wrong on the intellectual level. The words that stood and stand before the baal tefilah for centuries – שויתי ה לנגדי תמיד (Tehillim 16:8) cannot possibly be rendered, "I have set Hashem before me some of the time." Hartman would certainly cheer Rambam (Shemonah Perakim), who insisted that the development of an ethical character should optimally become a natural part of one's personality, rather than a response to Divine command. The same Rambam, however, wrote (Hilchos Teshuvah 10:3)
What is the proper love of Hashem? It is that a person should love Hashem with an extraordinarily great, strong love, so that his soul is connected to Him through love, to the point that he is preoccupied with Him at all times…
Hardly a second-place finish.
Is ethical development really the summum bonum of Yiddishkeit? When the Khazar king argues something similar to the chaver (pointing to the same lines from the prophet that Hartman does, expressing Hashem's preference for proper character over a surfeit of Temple offerings), the latter explains that Judaism has two chief goals. The first, earlier goal that must be achieved is the creation of the ethical individual. Having attained that goal, the Jew is then positioned to achieve the next goal: becoming more G-d-like, through the performance of myriad mitzvos.
For good measure, we'll throw in the Ibn Ezra to Tehillim 84:6, "Praiseworthy …[are] those with paths in their hearts," who explains that those paths focus on a single goal – getting close to Hashem.
Hartman's new/old religion will never produce the kind of connection to Hashem evinced by the Klausinberger Rebbe, zt"l:
When we reached the extermination camps…we stood there, naked and with nothing, without clothing and without coverings for our heads, and with the wicked ones beating incessantly with the batons in their hands; the situation was terrible. I turned to those standing around me and I shouted, "Fellow Jews – know that the holy God is waiting for us there, inside the camp…and let us not forget that God is with us." Throughout that entire year I worked on this – strengthening myself and not forgetting that God was with us, and that the entire world is filled with His glory – even in Auschwitz and Dachau, and that no place is devoid of Him…( Shefa Chayim, Chanukah)
Hartman's error is more serious because in other regards he is so…right! The goals (and achievements) of the Shalom Hartman Institute are, in other regards, spot in. It has had success in showing all sorts of Israelis the need to keep Judaism within the Jewish State, and the interconnection (and interdependence) of democracy and Judaism. It has made a case for a common platform of belief that all parts of the Israeli spectrum can agree upon. It has introduced respect for Judaism to groups of Christian and Muslim visitors. Regrettably, Hartman fails to realize how the views he sets forth in this book will set back the progress of his other, noble goals. They will turn off many of those he is trying to bring into the conversation.
Hartman thinks big:
We're going to "buy" a day a week with top students for two years — 45 hours a month for two years. Top students in law, business, sciences, arts, be they Orthodox, secular, Haredi, right-wing, left-wing, Jew, non-Jew. …The curriculum is: what is a Jewish democracy, what is a modern Judaism, what is religious pluralism, what ought to be the relationship between Israel and world Jewry? How do we develop the ideas that will sustain this tradition for the next generation?
We had a group of Haredim come to us and asking…How do I remain a faithful Haredi and be a part of modern Israel? A person committed to halacha and a Haredi way of life, and still live in the world.
Hartman has just made a great case for the opposite, for demonstrating just how stunted and twisted one's Yiddishkeit can become. I suspect that it will not just be haredim who greet his remix of Judaism with revulsion.
This is a shame, because his vision for the Israeli future is in large part positive and achievable. But it may take the participation of those who are not ready, chas v'shalom, to turn G-d into an also-ran, and to ride roughshod over the Jewish neshamah's yearning for devekus. It is upon us to demonstrate how and way fealty to halachah and halachic detail can and should enhance – not hinder – the ethical imperative. It is upon us to show that without yir'as shomayim, involvement in the ethical too often becomes self-serving or recreational, but not serious business. And it is upon us to show our fellow Jews that the sweetness of closeness to Hashem yields more smiles than frowns, on our brows, and on those who observe us.