The Biblical Museum of Natural History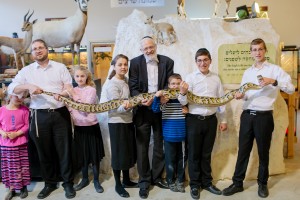 A few hours of pure delight at the Biblical Museum of Natural History was one of the dividends of my recent trip to Israel. Open since 2014 and housed, at least for the time being, in a warehouse in the industrial section of Beit Shemesh, the museum kept children and adults equally fascinated. (Full disclosure: I serve on the museum's Board in a voluntary capacity.) The installation houses lots of animals, live and preserved, and is hugely interactive. The large python in the photo may be the star of the show, but he is far from the only act.
The museum is the brainchild of Rabbi Dr. Natan Slifkin. Or maybe not. Some of us suspect that his wife, Tali, grew tired of their backyard housing a growing menagerie of specimens and made him upgrade. If so, the public is the clear winner. It has shown its appreciation by coming in droves: secular, dati-leumi, haredi. Tours can be tailor-made to suit the needs of different groups. One element that is totally absent, however, is controversy. While Rabbi Slifkin does not avoid that in some of his writings, none of it enters the museum.
If anything, the opposite is the case. The one bit of preparation needed for a visit to the museum is the recitation of birkas ha-Torah! The tour is a non-stop Torah learning experience, explaining passages in Tanach and maamarei Chazal at every station along the way. It is overflowing with Torah content, presented through a vehicle of interaction with animals, something that always works with kids. All visitors learn about animals that appear in Tanach – and why, as well as which ones lived in Israel during different periods of our history.
I took two families of my grandchildren along, and every one loved the experience. A week or so later, I participated in the Museum of the Bible (DC) tour of Israel and Rome, and told one of the participants about it. She then took her family (not Orthodox affiliated), which had an equally enthusiastic reaction.
With Chol ha-Moed approaching, families search for activities that are entertaining, but fit the Yom Tov mood by offering more than distraction. It is hard to imagine a more suitable Chol ha-Moed family outing for those in Israel than a few hours at the Biblical Museum of Natural History.