Rome Travelogue2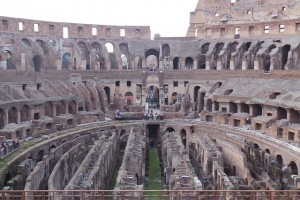 The Roman Jewish community dates back over 2100 years, which means that it is neither Ashkenazic nor Sephardic, since it predates most of that split. Even before a papal bull herded Jews into a ghetto in the 16th century, it is hard to imagine how Jews were not worn down by the pomp and majesty of churches and related institutions that dominate so much of the cityscape. Rav Yisroel Salanter famously opined that if non-Jews understood the disenheartening effect of the pealing of church bells had on the Jewish soul, they would never cease ringing them. In Rome, they didn't need bells to remind Jews of the absolute triumph of the Church as a spiritual (and often temporal and cultural) power, relative to the impoverished, despised and persecuted remnant of Israel.
One of our group put the question directly to Rabbi Dr. Riccardo de Segnei, Rome's Chief Rabbi. (The "Dr." was not bestowed after an academic dissertation. He is a practicing radiologist.) He answered bluntly. "The harder they pushed, the more obstinately we pushed back."
Push they did. Across the street from the Synagogue (during the life of the ghetto, only one synagogue building was allowed for all davening functions of all groups) still stands a building, marking one of the four corners of the ghetto. It has a depictions of the crucifixion, beneath which are a few pesukim from a navi (in Hebrew and Latin) chastising the Jews for their behavior. While the navi meant their lack of adherence to the laws of the Torah, the Church turned the verses into criticism of the Jews for failure to acknowledge the savior sent to them. The implication was clear: You are suffering in the ghetto for your obstinacy. You killed G-d after failing to recognize him, and persist in your failure even today.
The shul is beyond magnificent. After Jews were allowed to leave the ghetto, they built an edifice that rivaled the cathedrals of the Church. But the resolve of Jews then waned. There are two minyanim for Shacharis during the week – Sephard, and nusach Sephard – but not of the Italian nusach. Not enough interest among the authentic Italian Jews to sustain one.
The story of Roman Jewry is a microcosm of what happened to Jews in general. Jews remained committed while they were persecuted, but threw in the towel when the pressure waned.