A Poignant Note From Israel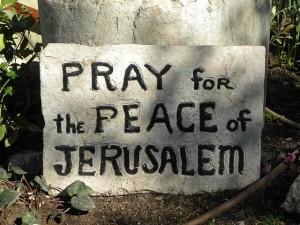 With all of us having family and friends in Israel, it is not particularly difficult to commiserate with them, to be נושא בעול of our brothers and sisters. With all that we have heard, I found this note from the front lines moving, and figured that our readers would as well. It was penned by Yosef Feuerstein, son of my friend Rabbi Dr. Mordechai Feuerstein of Teaneck.
Good morning folks! Here's a run down of how close to home these terror attacks have gotten. Today, Allie took a cab to work, as they have become safer measure than busses. The very bus line Allie generally takes to work everyday was boarded by terrorists this morning who shot and stabbed multiple passengers before they were eliminated. And then again, another attack right near her office only an hour or so later. Yesterday there was a stabbing just outside my office in Binyan klal, and panic ensued as there was confusion if the terrorist had run into my office building in an attempt to escape (or kill a few more). Ironically my building is the headquarters for the Israeli police in the area. Talk about bad karma… Needless to say the terrorist did not make it very far.

This stuff is as real as it gets.

Very tense feeling in the streets, everyone on edge and the tension is palpable. It does remind me that Yaakov only received the title "Yisrael" after he had to physically fight and endanger himself to protect his family against the Malach of Eisav. Bottom line – even after his many years of tzidkus and Torah, only when he put himself on the line for others, did he receive the title Yisrael. It is a name we are lucky to be born with.

But make no mistake – it is a title to be earned.

Today I feel like we here in Israel, on the ground, are earning that title. To live in fear and still feel that there is no where else on earth we'd rather be. If our people are going to suffer, then so are we. And we'll do it with strength and honor because ultimately it is our relationship with HKBH that makes us the target.
And that's something we won't give up for anything in the world.

Never felt more committed to HaShem.
[Thanks to Harvey Tannenbaum of Efrat who gets the news to his friends in Chu"l faster than the official sites, and once again provides readers of Cross-Currents with important reading.]