Anatomy of a Chumra Society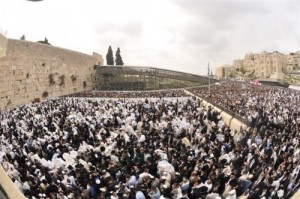 I owe a large debt of gratitude to Rabbi Karlinsky. The Karlinskys were my Shadchanim some twenty years ago, and it has worked out most satisfactorily. Consider that full disclosure preceding my unvarnished praise for Rabbi Karlinsky's well-written piece, which indeed needs to be read and taken to heart as a necessary yardstick for judging when personal undertaking of chumros is appropriate.
I believe, however, that a vital ingredient must be added to the equation. Not so much in disagreement as to guidelines (though I do take some issue with Yiras Cheit being an unacceptable motivation), but in its practical application. I begin with the following anecdote, recounted by R' Yitzchak Yerucham Borodiansky – a son-in-law of Rav Shlomo Zalman Auerbach. One of the boys in Kol Torah had a certain issue with his Tefillin. and he approached R' Auerbach with it. Rav Auerbach said: "Kosher Lechatchilah!" After a few moments, he added, "And it is proper to be machmir." The youth was rather astounded – If it is kosher lechatchilah, why be machmir!? Rav Auerbach answered: "Someone who wishes to be a Gadol BaTorah should be machmir" (Chiko Mamtakim, Vol. 1, pg. 163). Generally, during Rav Auerbach's time there was certainly a sizeable group that one might call "Tzibbur Hamachmirim," and Rav Auerbach would become quite infuriated over catching any hint of disdain toward that community (ibid., pg. 162, note 46).
This outlook should underpin some of the discussion of this issue. It is beyond question that the Yeshivish/Charedi society, in general, places great emphasis on striving for Torah greatness. Very many of its members are, in fact, not only bnei aliyah, but bnei daas, who properly assess the appropriateness of accepting a particular chumra, as well as situations in which it ought to be waived for a greater good. It would be utterly wrong, in my view, to cast a jaundiced eye on those who, for example, generally refrain from opening plastic bottle caps on Shabbos due to concern for the view of Rav Elyashiv (and others) that this is a Biblical-level violation of the melachah of mechateich, despite R' Auerbach's lenient position in this regard. There is sound halachic basis for avoiding it even at the expense of having to drink water rather than the desired Sprite for the Shabbos meals. Similar instances abound.
The problem, though, is twofold: (1) There are numerous matters other than Chumros that a person striving for Torah greatness must undertake. Being machmir on certain things while being less than meticulous about basic halachah in others, not to mention interpersonal relationships, creates an unbalanced and unsightly character portrait. That is indeed indicative of the frumkeit (spiritual instinct of kirvas Hashem run wild) that is the centrepiece of Rabbi Karlinsky's essay. (2) Not all those culturally or sociologically affiliated with Charedi society are actually on that page. They are, in fact, not truly striving for Torah greatness. Nevertheless, as far as externalities go, one cannot give the impression of not having such aspirations, so being lenient does not "look good." And so they follow along.
Let us examine one element of the "Disappearing Woman" subject with the above in mind: publications featuring women's pictures. I imagine myself putting together a newspaper for the Gedolim and Tzaddikim in Eretz Yisrael. Many, if not all of them, would not look at a publication featuring women's pictures, head-shots or otherwise. Is this inappropriate for them? I submit – not at all. R' Shlomo Zalman Auerbach was once approached by a group of Avreichim seeking guidance in spiritual growth. Where to begin? Rav Auerbach responded – "What do you need chumros for? There is no need for them. The main thing is to undertake to fulfill halachah in a lechatchilah manner, not bedieved." The Avreichim agreed, but did not leave the matter at that. They insisted on further meticulousness and growth. Rav Auerbach responded: "All the chumros and hiddurim cannot compare to one small hiddur in tzenius. In matters of sanctity and tzenius, every small hiddur has immeasurable meaning. It elevates, sanctifies, and brings a person closer to his Creator… A person who thirsts for spirituality, the core and the beginning is tzenius and sanctity" (ibid., Vol. 2, pg. 121). [I'm not going to get into an analysis of the halachic parameters of looking at women's faces or pictures, but I would direct the interested reader to look up Mishnah Berurah 75:7 regarding an Adam Chashuv; Igros Moshe OC I:40 s.v. Al Kol Panim; and the Otzar Haposkim to Shulchan Aruch Even Ha'ezer 21:1. Are there times or occupations that make it necessary to look at a woman's face? Probably. But it might not be inappropriate for many people in that situation to privately say a fervent kapitel Tehillim before such interactions so as not be nichshal in crossing the line into forbidden histaklus territory.]
Is there a sizeable group of true Bnei Torah who would not read such publications – for all the right reasons? Unquestionably. Are some caught up in this for purposes of one-upmanship? Surely. Are there some in the same cultural group who are far from such madreigos? Undoubtedly. Still, if a publisher wishes to present his product as the go-to option for Bnei Torah, he will understandably choose to omit women's pictures.
What about the affront to women? First, let me say that in a society where women are offended by having their pictures omitted, it is indeed the men's burden to bear. Keep the pictures in. But in many subsets of Charedi society – particularly among the tzaddikim – it is not only the tzenius of the women that makes them apathetic or actually opposed to having their pictures in the papers, but even the innate tzenius of the men makes them cringe at having their own pictures on public display. (See also Teshuvos Divrei Malkiel, Vol.3, end of simman 58.) There is no apparent interpersonal price to pay within that group (see below for a big caveat) – and the publications are geared to them.
The key question each and every individual must ask himself is what his personal avodah in this regard demands. Those suffering from frumkeit issues should honestly assess their spiritual cravings. The culturally affiliated must ask themselves if they are in the right program, and what they want to get out of life. And for those on the outside looking in – there is much to be done. See an unfamiliar black-hat fellow engaged in a chumra? Judge him favourably (it's a mitzvah!) – he is likely as not doing so for all the right reasons. Notice a fellow who lacks balance in this regard? Judge him favourably; you, too, may have acted out with deficient daas in spiritual or material matters. If, as the Baal Shem Tov says, noticing a fault in others is a reflection of similar problems within oneself, ask – might I, too, be guilty of frumkeit? Maybe even in reacting to all chumras as frumkeit? (It is quite good for the neshamah to be machmir in judging favorably and in introspection.) Furthermore, here is a person acting out of an instinct – albeit with a faulty navigation system – to grow close to Hashem. Am I utilizing that same instinct properly? At all? Do I work on my kavanah in Tefillah? On improving the quality and quantity of my Torah study? On myriad other areas that need improvement?
On a final note, I suspect some of the concern – consternation, actually – pertains to something Rabbis Adlerstein and Karlinsky have in common. Since both are involved in kiruv, they are – rightly so – exquisitely sensitive to others judging Judaism by its marketability. And as Rabbi Adlerstein so eloquently noted, a machmir society is, to many on the outside (and some on the inside), uninviting. What to do about that is both beyond the confines of this post and considerably above my pay grade, but this likely stems from the conflicting views expressed by Rabbis Dessler and Schwab long ago with regard to the intended product of the Charedi Yeshiva world. It seems that the hachraah in Eretz Yisrael on such issues has come down on Rav Dessler's side, with tacit accommodative adjustments made out of plain view.
A Kesivah Vachasimah Tovah to the entire house of Israel.