TheThree Cardinal Sins of Singing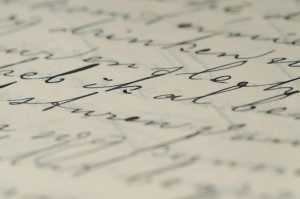 by Aron White – A Young Writer contribution
Singing is part of many areas of Avodas Hashem. The Gemara refers to a Shul as a "Makom Rina," and place of singing. The Medrash says that there are 9 songs in Tanach, and a tenth will be sung at the time of Mashiach. At our most special Simchas, our summer camps, our Shabbos tables – music and songs accompany us.
However, sometimes this wonderful way of expressing our emotions is cheapened and misused. Here are the three sins that we currently commit in some of our songs.
Sin One – The totally inappropriate song
Sometimes, in the interest of a good tune, we sing words that are totally inappropriate to the current mood. A great example is a favourite wedding song, Mordechai Ben David`s "Zachreini Na". As Shimshon sits in captivity of the Pelishtim, his eyes having been gouged out, he prays to Hashem to allow him to go down fighting, and avenge his killers as he dies – "Remember me, and give me strength this one time, and I will avenge (my death) from the Philistines." (Hashem grants this request, and he brings down the building on top of himself, killing thousands of Philistines as well) How singing such a song contributes to the joy of the bride and groom on their most special day is anyone`s guess. We should not sing songs that are inappropriate or antithetical to the event where we are in.
Sin Two – The fake, frum song
Sometimes there is the opposite problem. Sometimes we sing a song, and focus on it`s message – but it`s message is not really relevant to us, but it is frum to pretend so. A song that has become popular in the last few weeks is "Niggun Hastara." The song is a line of Rav Nachman of Breslov. He says that in a time of Hester Panim, even a time of "the hiding within the hiding," Hashem can still be found.
That idea is deep, profound and very meaningful. Crusades, pogroms, Holocaust, the wars in Israel all provided challenges to Jew`s faith, yet Jews always looked to find Hashem despite the hiding of His face. However, over this Sukkos I heard the song sung in a very different context. I am at a loss to explain how at a quite jovial meal in the David Citadel Hotel in Jerusalem (the fact that a room costs about $1000 a night says enough) there is a hiding of Hashem`s face that one must look beyond. It is totally fake to pay lip service to faith in the face of adversity as one sits, in Yerushalayim, surrounded by family and friends in the lap of luxury. ( One could even go further and say it is a lack of religious sensitivity or Hakarat HaTov to not recognise the great "Gilui Panim," revealing of the face, that that situation represents.) It is simply not our Nisayon – our challenge is to be able to move beyond the Kochi VeOtzem Yodi, not to find Hashem in the midst of turmoil. We should not sing songs because they are frum, if it is hypocritical or fake.
Sin Three – the insensitive, or cheapening song
The third sin is when songs are sung that cheapen a religious message. One of the most beautiful songs of the past few years is Simcha Leiner`s "Kol BeRama". This takes one of the most powerful images of Judaism, the idea of Rachel crying for her children, and puts it to the most beautiful tune. (Rav Avraham Pam said that in his view, Perek 31 of Yirmiya, the Perek with this Passuk, is the most inspiring chapter of the whole Tanach). This summer on camp, during supper, that song was played, and I frequently hear it at Onegs on Shabbos, even weddings. How can you play that song in a jovial atmosphere? That song speaks of the tragedy of the children killed in the Holocaust, the tragedy of the young soldiers killed in Gaza – to play it during a barbeque, just because Simcha Leiner`s voice is stunning? We cannot allow singing to destroy some of the most powerful images in Judaism, and turn them into background music.
I believe that each problems stems from one root cause. Singing has become something that is only horizontal, not vertical. Singing is about creating a certain atmosphere – At the Shabbos table, we want to sing Jewish songs and tunes. At weddings, we want to sing songs we can dance to. At camp, we want to sing and put our arms on each other's shoulders. This is very good, and creating an atmosphere is certainly a major part of singing – but sometimes we only focus around us, not above us. We are not using the singing as a way to connect to Hashem, but only as a way of connecting with others around us. Therefore we sing songs that don`t really have a message that fits, or that is suitable – if the song is quick, it is still good for dancing. If the song is slow, it is still good for a tisch.
I think the way of getting used to singing as a way of connecting with Hashem is to sing in a more localised, individual way. When one finishes a Chavrusa, they can/should sing or hum to themselves Shwekey`s Vehaarev Na. If one is raising money for poor people, one can sing to themselves Shwekey`s V`Na. When one is on the road to the airport to head to Eretz Yisrael, one can sing Yerushalayim Oro Shel Olam. Choosing a song to fit the moment, and singing it, helps us use songs to connect with Hashem. In fact, if one sings by oneself, it is all about connecting with Hashem, rather than creating an atmosphere! (Note – one should be aware of their surroundings before they begin singing loudly to themselves in a public area…….)
This context for singing means that we are using the song to express our feelings of gratitude and prayer. By learning how, what and when to sing better, we can recapture singing as a way of connecting ourselves emotionally to our Avodas Hashem.
Aron White is in his fifth year at Yeshivat HaKotel, whilst also studying for a degree in Politics and International Relations through the University of London International Program (Lead College LSE). He has been the head of the Beis Hamedrash on various summer camps in England, and also gives Shiurim in Yeshivat HaKotel.