Just Because They Are Trying To Get You Doesn't Mean You Aren't Paranoid: A Response To Rabbi Grylak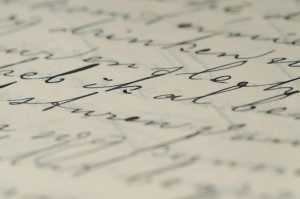 "To our chagrin, our aggressive style and the curses and insults that are issued by our own people and media organs are a terrible malady. These things are the cause of tremendous damage in the delicate and complex fabric of relations between the charedim and the secular populace of the State of Israel."
Those words, penned by Rabbi Moshe Grylak, Mispacha's editor-in-chief, make worthwhile and bearable the embarrassment of a two-page response to my earlier essay in Cross-Currents. That essay praised Mishpacha for the wealth of information and thought regarding the Yair Lapid measures, but showed where there were some gaps, including Rabbi Grylak's contribution to that issue.
Rabbi Grylak joins me, and I imagine most readers of Cross-Currents, in mourning the sacrifice of truth on the altar of expediency, whether in Haaretz or in HaPeles. He does, I fear, miss a key point of mine. After a long citation from the original article in which I point out that hyperbole is common to both camps, and therefore not the best way of gauging what is really on people's minds, Rabbi Grylak acquits himself of the charge of paranoia by pointing out that the voices he cites were not those of extremists, but of people "considered the mainstream of our society." Yet my point was not that the individuals he cited were marginal people, but that they used overheated rhetoric to inflame passion, and please the masses. Who is doing it is not the point. What they really feel – and hence what they will try to achieve with their legislation – is more important.
Rabbi Grylak observes that Shai Piron should not be seen as an extremist. He is the Minister of Education, which puts him in an important position. He is not just blowing off steam. Rabbi Grylak finds upsetting that Shai Pirion explicity states that he wants to "produce a change in Israeli society…There is a need to create a cultural ethos shared by everyone." Rabbi Grylak is concerned about the imposition of such an ethos by people standing outside the charedi community. The fact that Piron thinks that all Israelis ought to study some poems of Bialik and other secular poets is a matter of concern to him.
It should be. Unchecked, such a process could easily turn into an insidious propagandizing of charedi schoolchildren. The notorious Shulamit Aloni used that same office to propagandize for the left during her stint at that job, stripping textbooks of the pride that was instilled through telling in a positive manner the miraculous events of the establishment of the State and its subsequent battles with the barbarians at the gates. But is it fair to be conclusory about Piron? Should we not ask what kind of cultural ethos he wants to see. Does he want to cut of the peyos of residents of Meah Shearim? Does he want to lower the charedi birthrate so they won't take over? Or does he want to see charedi soldiers in Tzahal (and DL ones, and secular ones) met with a smile and appreciation? Much more importantly – does it matter so much what Piron (a BT, rav and a ram!) wants? What kind of change is the voting public looking for? Is it fair to assume that they want what Piron wants? Should we not at least ask the question? No, I don't think Rabbi Grylak is paranoid, but I think he is helping to ease his readership down the path of maximizing rejection of the other side, while paying minimum attention to their legitimate concerns and needs. [Aside: Last week, Hamodia put together an evening of messages on the topic by important speakers around the world. They did stay close to the predictable message, with one important exception. Rabbi Aharon Lopiansky of Silver Spring (a colleague on the editorial board of Klal Perspectives) spoke, among other things of the need to understand what the other sides is saying. He pointed to an Akeidah (Kedoshim #65) who says that women who truly care about their appearance use mirrors that maximize, rather than minimize, their blemishes. That way, they can better attend to them cosmetically. Listening to our critics, with their inflated language, helps us focus on our own faults. You can listen to his presentation by calling 718-650-6050 and selecting option 6.]
Rabbi Grylak asks in large type, "Does a demand for forced social change fit in with the concept of democracy as you know it in the United States?" Unfortunately, he picked the wrong week to ask this question. Rabbi Grylak, meet Justice Kennedy, who led the US Supreme Court in a massive exercise in social engineering last week. Rabbi Grylak also asks, "From a democratic point of view, do you see a possibility for the US government to dictate the nature of education in keeping with the American ethos? Can they do this in Satmar, in Lakewood?" Maybe it is time for another US visit, Rabbi Grylak. Indeed, that is the law of the land. Some may try to operate in violation of the laws mandating general studies instruction (even for home schoolers!), but the laws in fact exist. They uphold the need of a democratic society to assure that children are given both a chance at vocational success as well as share some information about the United States that is meant to bring about some social cohesion.
Like Yair Lapid, what I say I would like to see is not the same as what I would settle for as first steps along the way. Rabbi Grylak's concession that over-the-top rhetoric by any camp leads to over-the-top reaction by the opposing camp is a good place to start, and I am happy to have been the shliach to make it happen.
And, to illustrate the complexity and nuance of life, I will recall for readers the time some years ago that I joined an Aguda mission to Israel. We spent some time in Knesset; I was chosen to deliver a message from the group at a meeting with MK Chaim Ramon. My piece de resistance was a beautiful appreciation of the role of the beis medrash and learning as the source of strength of the Nation. It was delivered with the apparent approval of the other participants. It was authored by Chaim Nachman Bialik.