Letters Enlighten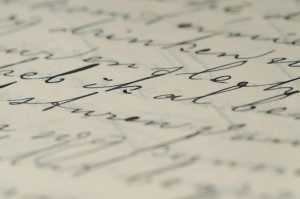 The idiom osiyos machkimos/ letters enlighten appears innumerable times in rabbinic literature. It usually means that the one using the phrase has read the original of an argument, and finds it more enlightening than a paraphrase or synopis. Alternatively, it might be an appeal that the reader should study the fuller original form of an argument.
Somewhere along the way, I had a rebbi who used the phrase quite differently. He would urge us to take notes onthe shiur, claiming that the writing of those letters – not the reading of them – would make us wiser.
Decades later, I have no doubt that he was correct. Forcing oneself to turn mental rumination into visible output helps turn cerebral chaos into organized thought, and fixes that thought in our memories.
This may all go the way of the dodo bird. Schools across the country are mandating keyboarding skills by the fourth grade, but dropping cursive – what we used to call handwriting. A recent article in the Wall Street Journal tells the story of move away from the increasingly irrelevant skill of writing cursive (which used to be taught because it does not require lifting the pen from the paper as block letters do, and is therefore far more efficient), as well as the backlash in parts of the country.
Someone out there agrees with my high school rebbi:
Typing doesn't help the brain develop as much as writing in longhand, a tactile means of expression with roots in scratching on cave walls, argues handwriting analyst Michelle Dresbold. With typing, the fingers make repetitive movements rather than connect shapes, she said.

"It's a very natural process to take a crayon or a rock and make symbols with your hand," Ms. Dresbold said. "It's just bringing down things from your brain." Without that, "children are not thinking as thoroughly."
In an earlier post, I heaped effusive praise upon Dan Roth for rising to the challenge of producing cutting-edge curricular materials that speak to today's children, ba'asher heim shom. If kids, including so many of our own, are moving towards different ways of processing information, we have to be able to do more than gripe about it.
At the same time, we need not embrace all change simply because it is fresh and current. As a traditional community, we know the value of retaining wisdom of the past. A German proverb has it that "whoever is married to the spirit of the times is bound to be a widow." Should our schools, which offer a truncated general studies schedule in the first place, throw out cursive as a fossil? (OK, they don't recognize fossils; you find a better word!) Or should they recognize that there are often hidden gifts attached to the things we are ready to discard?
Or might it be a better idea to recognize what is in danger of being lost, and insist that students develop personal strategies of note-taking (beyond turning on a recording device), to ensure that letters will continue to enlighten – them and us?