We Are Not The World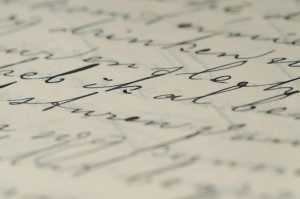 Chanukah is far from most minds these days, understandably. And yet symbols of the societal showdown that yielded its commemoration lie before us.
In a particularly conspicuous "we run and they run" display, the 2012 Summer Olympics—whose roots lie in the ancient Greek games, where religious sacrifices to mythical gods accompanied sporting events—opened mere days before the world-wide celebration of the Daf Yomi Siyum HaShas.
As a large crowd in London wildly cheered displays of physical prowess, a stadium an ocean away— itself usually used for running and throwing and catching—became a point of convergence for a large crowd of Jews intent on honoring Torah and its study. (There were large Siyum HaShas gatherings as well, of course, in Britannia, as well in innumerable locations around the globe.)
The close to 100,000 Jews gathered at MetLife Stadium in New Jersey on August 1 were honoring people too: Jewish men who, in a demanding endurance test of their own, had applied themselves to "learning Shas"—studying the entirety of the Babylonian Talmud—over seven and a half years. And their invaluable coaches, the wives and children whose encouragement and personal sacrifices allowed those "Shas Yidden" to run their personal marathons.
If the confluence of the two diametric events weren't striking enough, there was the message sent by International Olympic Committee President Jacques Rogge's refusal to devote a moment at the Olympiad's opening ceremonies to recall the eleven Israeli athletes and coaches killed 40 years ago during the Munich Olympics.
Those of us who had become fully sentient by 1972 remember the drama vividly. It was the second week of the Munich Summer Olympics. Eight Arab terrorists ("militants," in current journalistic jargon) penetrated the Olympic Village and took the Israelis hostage. Two Jews were murdered by their captors there and the nine others on an airport tarmac after German police botched a rescue attempt.
Olympic competition was suspended for a day and then a memorial service was held in the Olympic Stadium. Then-IOC President Avery Brundage spoke, averring that "Every civilized person recoils in horror at the barbarous criminal intrusion of terrorists into the peaceful Olympic precincts," declaring that "we mourn our Israeli friends, victims of this brutal assault," and bemoaning how the Games had become a place for such things.
Then, he added, famously, that "a handful of terrorists" cannot be allowed "to destroy this nucleus of international cooperation and goodwill we have in the Olympic movement," and announced that "The Games must go on!" to the loud applause of the crowd.
The current IOC president was asked to mark the forty year anniversary of the Munich Massacre with a moment of silence during the Olympics' opening ceremonies. The Israeli foreign minister backed the idea, unsurprisingly, but so too did the German Bundestag, members of the Canadian and Australian parliaments, about 50 members of the British Parliament, and about 140 members of Italy's parliament. As well as the US Senate and House Foreign Affairs Committee. And President Obama.
Mr. Rogge, however, declined the request, saying that other ceremonies at other times would include remembrances of the murdered athletes, but the opening ceremony of the Olympics was just not an appropriate venue for the injection of a memorial moment of silence.
A well-known sportscaster, Bob Costas, disapprovingly noted the IOC's decision and then paused on-air for a full 10 seconds—an interminable time for electronic media—during the opening ceremonies.
Good for Mr. Costas, and not so good for Mr. Rogge (though he seems like a nice fellow who just felt the need to maintain the opening ceremonies' pomp and joy, unmolested by difficult memories).
And good for those of us, I say, who don't care a whit about the IOC or the Olympics, who recognize that Jews don't need the world to validate us or commemorate what some parts of it have done to us—and continue to do to us, as was most recently evident a mere two weeks ago in Burgas, Bulgaria, where five Israelis were killed and more than 30 injured when a tourist bus was targeted by a bomber.
For my part, I'll take the roar of Kri'as Shma at a Siyum HaShas over anyone's moment of silence.

© 2012 AMI MAGAZINE
The above essay may be reproduced or republished, with permission and the above copyright appended.
Communications: [email protected]

Subscribe to Ami at http://amimagazine.org/subscribe.html .