Shulchan Aruch – Three Ring Binder Edition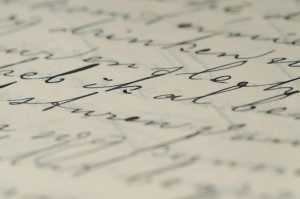 by Dovid Landesman
Browsing in one of the larger bookstores in Brooklyn, I overheard the following conversation between a stylishly dressed woman and the proprietor.
"I would like to buy my husband some seforim for his birthday.""What specifically are you looking for?" the salesman asked.
"Something in brown, to match the others!"
We are at the threshold of hearing a similar dialogue which will take place when people become honest and open about "the kind of seforim that they are looking for." I conjecture that serious market research into the contemporary Orthodox world – in both its MO and UO components – would uncover the existence of a sizeable potential clientele eagerly awaiting the availability of a Shulchan Aruch published in a three ring binder so that they might easily subtract or add to its contents. This innovative edition would go a long way toward justifying the manner in which our faith is currently observed.
Why do these communities seek to change Shulchan Aruch?
The sociology of the MO world is fairly uncomplex and will therefore not be a part of this discussion. What absorbs me now is the UO world, particularly a subgroup within this world who are truly frightening, for they have infiltrated the ranks of leadership and impose their agendas and hashkafot on the entire community. They seem to control the rabbinic leadership of the community by limiting access to the poskim and authorities, by managing the homes of the rabbis, speaking in the names of gedolim, signing them to public declarations and even forging their signatures. At times, and this is almost impossible to believe, they will go so far as to impose censorship on those whom they purport to follow. Let me offer an example.
The Ponovezh yeshiva in Bnei Brak has sponsored a yarchei kallah during the period between Tishah B'Av and Rosh Chodesh Elul for close to six decades. In the years when Rav Shach zt"l headed the institution, it was considered the flagship of the yeshiva world, especially in terms of setting hashkafah. Rav Shach gave an opening shiur at the beginning of every yarchei kallah during his tenure as rosh yeshiva – a shiur that was often a policy statement as well as a Torah lecture. One year, his opening remarks included a blast against yeshiva students whose level of diligence in their studies left much to be desired. In his criticism, he said that they had no right to take advantage of the agreement to defer army service and should be conscripted immediately into the IDF! Within minutes, word came down to confiscate every recording device in the hall where Rav Shach was speaking, so that his words would not become public knowledge. To the dismay of those who sought to "control the damage," it was discovered that a correspondent from Israel Army Radio was attending the lecture and had broadcast a live feed. Despite the efforts of the "handlers", Rav Shach's words had already been heard throughout the country.
It is far beyond the scope of this article to try to explain why rabbis permit these handlers to assume the authority that they do. Those skeptics who believe that I am exaggerating the powers of the "gatekeepers" are invited to discuss the issue with their local rabbi.
It is, however, not beyond our scope to try to understand the motivations of those who are not satisfied with the acceptance of personal stringencies but who attempt to impose them on the entire community. It goes way beyond a desire for power.
The Netziv, in his commentary to Shir ha-Shirim, offers a fascinating insight which I think will be helpful. He raises an interesting question. In parashas Vaeschanan, the Torah delineates a dual prohibition; bal tosif – adding laws to the Torah – and bal tigra – subtracting laws from the Torah. One can readily understand the natural drive to omit obligations and make life that much easier which is the basis for the Torah's prohibition of bal tigra. But why would we suspect that man would seek to create more complex obligations – bal tosif? Why would the Torah need to legislate against a psychological phenomenon that would seem to be exceedingly rare; i.e., those who are not content with the Torah's expectations but add their own in the name of the Torah. Remember, self-imposed stringencies – chumros – are not necessarily considered bal tosif!
Netziv answers that man can become so enamored of engaging in the service of God that he becomes swept away and convinces himself that his God service is so important that it supersedes his obligation to perform other, more mundane mitzvot. In adding to a mitzvah that is theocentric, man stands a good chance of violating laws that are homeocentric. In other words, bal tosif in a bein adam lamakom can easily cause ba'al tigra in a bein adam lechaveiro. Netziv adds that it was for this reason that the tzitzit were not completely fashioned from techeles which served to remind man of the heavens and thereby make him God cognizant. By adding white threads, indeed by making those threads predominant, man is reminded that Judaism is also concerned about man's relationship to his fellow man and to the world itself. [I've always thought that if television ever comes to Bnei Brak, I could make a fortune producing a show called "Extreme Chumrah"]
Perhaps the most obvious of the UO deviates are the famed Burkha ladies of Ramat Beit Shemesh. In the name of tznist, they have adapted a lifestyle that is the embodiment of what the Netziv meant when he said that over obsession with one mitzvah inevitably leads to under performance in other areas. Do we need any further proof than the repeated reports of abuse and neglect emanating from this community?
Or take the stone throwers and garbage burners of Jerusalem. You can dismiss them as a fringe element, but I fear that they are a growing gang of young men who have discovered that force is an effective means of acquiring one's ends. Can any of us be sure that the violence that they employ against the police will not translate itself into violence within their families and communities? Is it possible that the apparent increase in reports of abuse within the UO community are the result of the increased levels of violence that this community uses to accomplish their goals? Is there not a co-relation between the Va'adei ha-Tznist and the tactics that they use and the ever increasing numbers of kids who are off the derech inside these communities?
The Chazon Ish was once asked to point out the section of Shulchan Aruch that listed forced conscription of girls into the IDF as constituting a yahoreg v'al ya'avor – a mitzvah that one is required to give up one's life rather than violate. In response, he pointed to his heart. I accept this but would only add that one must be of the status of the Chazon Ish to make this kind of pronouncement. Additionally, it is important to remember that when I am prepared to be moser nefesh myself, I have created a Kiddush Hashem. However, when I demand that someone else be moser nefesh, I am a rotzeach!
Increased radicalization is a dangerous strategy, for it can lead to an equivalent reaction on the side of those who perceive themselves as victims. Of this I am confident that the rabbinical leadership is well aware without my two cents of advice. I am less confident, however, that the internal consequences of radicalization are being considered and therefore raise the flag in the hope that it will be noticed. This should not be construed as an attack on gedolai yisrael – such a categorization is simply an easy means of deflecting criticism from the community. Rather, and especially now in the period of bein hametzorim, it is essential that we be careful to remind everyone involved to be exceedingly careful of our every step.
[Rabbi Landesman is a veteran mechanech and mechaber sefarim in Israel]