Torah as Nazi Notebook Cover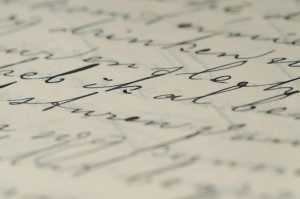 Haaretz has a fascinating piece on a Nazi officer's notebook, which was covered by a fragment sliced from a Torah scroll. It was given by the Nazi officer's son to Moti Dotan, the head of the Lower Galilee Regional Council, for him to give to "a holy man in the Lower Galilee."
What passage might you imagine being most appropriate to the Nazis?
Rabbi Grossman turns over the piece of parchment and reads from the text. The parchment is from the book of Deuteronomy, from the weekly portion "Ki Tavo." The rabbi reads: "…and distress wherewith thy enemy shall distress thee in thy gates … then the Lord will make thy plagues remarkable, and the plagues of thy offspring, even great plagues, and of long continuance, and severe sicknesses, and of long continuance … also every sickness and every plague which is not written in the book of this Torah, them will the Lord bring upon thee, until thou art destroyed. And you shall be left few in number, whereas you were as the stars of the heaven for multitude" (Deuteronomy 28, 57-62).
Read. Shudder. Repeat.